Congratulations John A. Logan College Graduate, Donavan Nalley!
Donavan Nalley graduated May 11th from John A. Logan College with an associates degree in science. He has a 3.85 grade point average. He is a member of Phi Theta Kappa and he just received news that he has been awarded two major scholarships to attend the University of Arizona.
As he looks back, Nalley said, he realized soon after high school just how important getting a college education is.
"Doors were opening for people who had a college education," Nalley said. "I could see just how important higher education is."
But would he have done it if he hadn't been injured in the mine? "Life has a way of motivating you," Nalley said. "If I hadn't been hurt, I'd probably still be in the mine. But John A. Logan College took an old rock kicker from the coal mines and turned me into a student who is attending a tier one university geology program. Now how do you like that?"
---
Congratulations Elgin Community College Graduate, Krystal Calhoun!
"I can honestly say [Elgin Community College] is an institution that ensures every student is given equal opportunity to get involved. For me, that opportunity was Black Student Achievers (BSA). Holding a leadership role in a club filled with such brilliant minds, good intentions, and caring hearts has allowed me to realize the impact students can have on the lives of others and the community around us. . . . I couldn't be more proud of myself for obtaining my Associate in Science, but the journey doesn't stop here. Earning my bachelor's degree in exercise science is the next destination on this amazing journey called life."  — Krystal Calhoun
---
Congratulations to Lincoln Land Community College Graduate, Joseph Kalala!
Joseph Kalala is graduating from Lincoln Land Community College in computer application systems. He will be attending the University of Illinois at Springfield next to continue his education.
"I was born and raised in the Democratic Republic of Congo. College has changed my life in many ways. I started just like every student but throughout the way, I learned many things that are helping me now and in the future. Being in college is not easy but it's worth it.
About six years ago, I moved from my country to the U.S to join my family who moved before me. I was excited about joining my family but nervous at the same time; nervous because I didn't know English, and also nervous to start a new life with different people. I did my last year of high school and I had to get ready for college. Transitioning from high school to college wasn't easy, but I didn't let my fear stop me from making it through.
I started my first year of college at LLCC and I struggled hard in many of my classes since I had only a little understanding of English. I joined some clubs and participated in some events just to improve my English. My journey in college wasn't easy at all; for most of the time, it was challenging. I had to challenge myself to do the homework, write a better paper, wake up early, and to keep my grades up.
As every man needs a helping hand, LLCC installed the Open Door Mentorship Program to help minority students to do better in college. This was like a dream come true. This program enlightened me and helped me see the bigger picture of how education could benefit me in the future. Throughout this program, I had a chance to visit many local companies and learn how they run their businesses and see what they offer to students. I even had a chance to work in one of those companies as an intern throughout summer 2017. Those times were when I realized that hard work pays. Since then, I always try my best to keep the grades up and finish strong.
Now I am done with LLCC and about to start a new journey at UIS. This time now I feel prepared because LLCC has prepared me enough to be ready. I'm thankful for everything that LLCC has done for me, especially establishing the Open Door Program to help us." — Joseph Kalala
---
Congratulations to Southeastern Illinois College Graduate, Bailey Drone!
"SIC has been a great place full of opportunities. At SIC, I have been able to begin my education with teachers who know me and genuinely care about my education, as well as some of the lowest tuition rates to be found. Additionally, SIC has given me opportunities to be involved in organizations such as Student Government and Phi Theta Kappa. SIC Is a great place to begin your education!" — Bailey Drone
---
Congratulations, Oakton Community College Class of 2018 Graduate, Jeremiah Stymacks!
Oakton Community College Class of 2018 graduate Jeremiah Stymacks is glad that college comes with a "reset button." His original plan was to take all of his prerequisites at Oakton in two years and then transfer to become a high school math teacher. After nearly graduating with an Associates, he had the opportunity to shadow teachers, attend school board meetings, and talk to principals. It was a life-changing experience because afterwards, he decided to pursue new goals.
"I appreciate having had the opportunity to change majors. At a four-year university, I would have taken out loans towards a degree I found wasn't for me. I would have been more committed to my first choice because of the time and money I would have invested."
Now, Jeremiah is focused on completing his Associate of Science in Engineering with an Honors Certificate. He is continuing his education in the fall at the University of Illinois at Chicago College of Engineering majoring in Computer Engineering. However, before graduating, Jeremiah has some unfinished business as the student Project Manager of Oakton's team in the NASA Robotic Mining Competition (RMC).
"Last year was a team full of rookies, and we still placed 13th of 45 universities. The most competitive thing a community college student can do is outperform a university team where they intend to transfer. Many members reenrolled for another year, and our veteran experience gives me more confidence for this year's competition." he says.
The group competes at the Martian mining excavation contest at NASA's Kennedy Space Center in Florida against 50 other college and university teams. Oakton is one of few community college entries but has always placed as a high performer.
"One of the most exciting opportunities Oakton has provided is my internship at Northrop Grumman," he explains. "I was able to bring the technical and communication skills I learned from robotics team to a large engineering and manufacturing firm. I worked hands on with electronic circuits for military applications, working with both test technicians and electronics engineers."
After the competition and graduation, Jeremiah looks forward to starting his career. "My goal is to become a systems engineer and eventually a program manager for a company that focuses on either space or defense missions," he says. "The feelings of pride and satisfaction from completing these projects are unique because these are the types of projects that can someday be historic and legendary."
---
Ana Campa Castillo graduated from Joliet Junior College this month with an associate degree in psychology. Congratulations, Ana!
It's been quite a semester for Campa Castillo. In January, she was Illinois Congressman Bill Foster's guest at the State of the Union Address and she was interviewed with multiple media outlets about her DACA status. Since then, the college's Office of Multicultural Student Affairs has honored her with the Outstanding Leadership Award, and Campa Castillo became a recipient of the Dream U.S. Scholarship. The $29,000 award enables her to complete a bachelor's degree at National Louis University.
Campa Castillo said that getting a college education wasn't initially her goal. She was caring for a five-year-old at the time, and earning a decent wage working management full-time at a retail outlet. But, Campa Castillo said, she knew there was more she could do.
"So I decided to enroll for one class and, and another class and decided to become a full-time student," she said.
Campa Castillo didn't rush in and didn't feel pressured to do so, she said.
"I found JJC very comforting and I found not only academic support from my professors but within our staff."
---
Edgar Alba first enrolled in Elgin Community College in 2015 as a participant in the dual credit program. Today, Edgar is a proud graduate of ECC!
"Two years ago, I was ready to dive into debt for a private university education instead of considering Elgin Community College. Today, I leave saying that attending ECC is one of the best choices I have ever made due to its affordability, quality professors, and the important connections and lasting friendships I found.
I enrolled in 2015 as a participant of the dual credit program. Attending while still in high school showed me that ECC actually is a community with welcoming peers and fantastic professors. This community enabled me to be comfortable on campus with students who understand the struggle of balancing school with heavy responsibilities, and with whom I share common goals.
The peak of my love for ECC was finding my passion for community service, activism, and networking through many unforgettable experiences. I became involved on campus as an officer of the Phi Theta Kappa Honor Society (PTK). PTK allowed me to meet inspiring individuals on campus and across the country. I discovered my passion for community service through volunteering at the on-campus Spartan Food Pantry and at local soup kitchens. My enthusiasm for activism came as I debated on the Illinois Senate floor thanks to the Model Illinois Government course. I also fancied networking during a PTK conference in Kansas City and at the United States Hispanic Leadership Institute in Chicago; unique opportunities I took advantage of during my time here.
I will continue my education at University of Illinois Urbana-Champaign, majoring in finance with a minor in political science. ECC propelled me to acceptance into my dream school—a goal that once seemed unattainable. I encourage current and future ECC students to get involved, be active, be challenged, be motivated, be wise, and most of all, have fun." — Edgar Alba
---
Congratulations Oakton Community College Graduate, Serafina Paulino!
Serafina Paulino takes "two for one" to a whole new level. She attends two colleges, is studying to complete two majors and plays two sports. Her recent graduation from Oakton Community College marks an important milestone in her academic journey.

She was a two-sport athlete and salutatorian at her home high school, Academy of Our Lady of Guam in Hagatña on the U.S. territory of Guam, a tropical island in the Pacific Ocean where her mother is a senator. When she was wait-listed at her first-choice school, Stanford University (she eventually was accepted), she instead committed to a full-ride scholarship at Loyola University in Chicago–7,364 miles away from home. While being recruited to play soccer, she met Oakton soccer coach Steve Brody. Once she reached Chicago, she was curious about Oakton and came out to meet the coaches and see the campus.

"I fell in love with Oakton. I didn't feel like an outsider here because the students are so diverse," Paulino explains. "People don't give community colleges enough credit, you really have to experience Oakton for yourself," Paulino says, explaining what attracted her to Oakton. "Loyola is a wonderful school, but honestly, I find the courses at Oakton every bit as challenging. And, because I had smaller classes and was involved in more Socratic dialogue with professors, I feel like I've learned more here."

Rather than choosing one school over the other, she made the unusual decision to attend both at once. She has her academic goals set on two majors– psychopharmacology and journalism. To accomplish this goal, she took five classes at Oakton and five at Loyola each semester, while also playing two sports, soccer and softball at Oakton. In her second year, she reduced her load to five classes at Oakton and three at Loyola. "I was named captain of the soccer team, and I wanted to focus on my soccer," she explains.

Paulino was recently diagnosed with lupus, an autoimmune disease with no cure. This unfortunate news has helped make up her mind to finish her schooling in Texas after graduating from Oakton to be closer to relatives in the Houston area.

"When I go home this summer, I plan to work in the lupus wing of the Guam Regional Medical Center for the summer. I want to learn everything I can about this disease," she says.

Her Human Development professor, Paul Johnson, says that, "Serafina is easy to root for. She loves to learn, is committed to studying, and is one of the top students I have encountered because of her combination of determination and academic ability."
---
On May 11th Jessica Johnson graduated with honors from Rock Valley College. Congratulations, Jessica!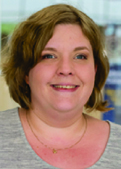 On May 11, 2018, Jessica Johnson walked across the stage to receive her diploma a decade after she first started her journey at Rock Valley College. She graduated with honors and, earlier that day, she received the Outstanding Office Professional Student Award from the business department.

Jessica first attended RVC in 2008 and was working toward a certification in Cisco Networking. While taking the Cisco Certified Network Associate Routing & Switching (CCNA) exam, she kept failing the OSPF (Open Shortest Path First) portion. On top of that, she was dealing with some very difficult personal issues. She made the difficult decision to drop out of school.

"I had considered going back, but I guess I just was afraid to fail," says Jessica. "All I could think was that if I fail again it will devastate my self-esteem."

Eventually her boyfriend, Kurt, convinced her to go back to school. To say things went better for Jessica the second time around would be an understatement. She started doing so well, in fact, that she began helping other students as a peer tutor in RVC's Tutoring Center. At one point she was tutoring five students in three different subjects (CIS 102, PCI 106, and ENG 101). She feels helping others even helped her do better in her classes, while also raising her self-esteem.

"I've been through some pretty hard times," says Jessica. "I didn't think I would even be alive, let alone graduating with honors or even trying out for commencement speaker. I never imagined any of this would be possible for me. I don't ever want to give up again."

Catch the full story here: https://tinyurl.com/yb293zny
---
Congratulations Brandon Williams, the 2018 student commencement speaker at Joliet Junior College! 
After attending JJC on and off for eight years, Brandon Williams walked across the stage with an associate degree in computer network security.
When Brandon Williams began taking classes at Joliet Junior College in 2010, the cards were stacked against him. Williams, a veteran of the wars in Iraq and Afghanistan, had been diagnosed with post-traumatic stress disorder (PTSD), was going through a divorce and struggling with alcoholism. "Never give up, no matter how hard the situation is, no matter how hard life hits you, you have to get up. Don't let life's sourness consume you," said Williams.
Williams has two daughters, three-year-old Peyton and one-year-old Piper, and a wife Sam, whose support he says is immeasurable. "My wife's always been there by my side, always supporting me," he said. Williams' mom and sisters have also been there to motivate him to finish his dream. They help babysit the girls whenever he needs some time to himself. "They've been my support. They've been my rock. Without them, I wouldn't have made it as far as I have. I wouldn't have had the drive to accomplish what I've accomplished so far." He loves his girls immensely and enjoys whatever time he gets with them, which is limited because of his job and attending school full-time. But Williams has had to overcome some uphill battles in order to experience the joys of today.
At age 19, after graduating from Downers Grove South High School, Williams enlisted in the United States Army. He served two tours in Iraq and one in Afghanistan that taught him a lot. Namely, how valuable life is. "Quickly I learned that life was precious," said Williams. "It could be over in an instant." Because of the difficult environment overseas, he returned home with PTSD and depression. By the time he arrived at JJC in 2010, Williams was working through a divorce and a bout with alcoholism.
He met Pam Dilday, the college's director of Student Activities, during his first semester. Even when not enrolled in classes, he kept in touch with Dilday. Williams credits her for encouraging him to come back and finish his degree. "She saw something in me that I didn't see at the time," he said.
Stan Pieklo, professor of Computer Information and Office Systems, was one of Williams' favorite professors. "He's so passionate about computers; it makes you want to learn. It makes you want to pay attention," He said of Pieklo. Because of his PTSD, sometimes it is hard for Williams to walk the halls with a lot of students. When he starts to feel anxious, he stops in the Veterans Resource Center to take some time to calm the anxiety. There, he also gets to meet with other veterans that understand what he's going through.
Williams loves music and is a disc jockey in his spare time. "Music's always been a love and a passion for me." He also likes to play video games with his old Army buddies from time to time. He said he had to put those activities on the back burner though, so he could concentrate on school. But the love of Williams' family has remained constant, and finishing his degree helps Williams provide them with a better life. He wants to use his degree to help people. He wants to be the person people call when they need help. His wife Sam will attend JJC to study nursing in the fall. Williams says that it's his turn to take on some extra responsibility and be the support for her that she was for him.
---
Alyssa and Kara Jarvis complete ADN program at Rend Lake College. Congratulations to this amazing mother-daughter duo!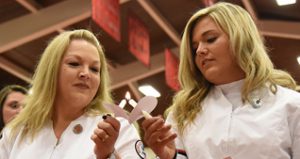 Over the past year, Alyssa and Kara Jarvis of Royalton, Ill. have laughed and cried, dreamed, inspired, and loved one another as they traveled through what is arguably one of the most challenging programs offered at Rend Lake College: Associate Degree Nursing (ADN) to become a registered nurse (RN). Together, they faced personal and academic highs and lows – all with a shoulder to lean on. Just last week, their combined paths to success came to a close as they walked across the RLC stage at the ADN Pinning Ceremony.

Of their experiences at Rend Lake College, mother Alyssa said, "I couldn't have done it without her and I couldn't be more proud of her. You can have a friend in the program and it's great, but to have somebody who truly knows your heart and has lived with you, who sees you at your best and at your worst – to have that is indescribable. I want to give a big shout out to our teachers. They made it so much easier for us as huge supporters who were very encouraging along the way."

Daughter Kara added, "At the beginning, I thought it would be fun. I thought, 'I just want us both to pass.' But we're both pretty competitive people, and we both have that joy of winning. So if I beat her by one point on a test, it was great. It was serious too. As long as we both pass, that's how it was… Growing up, she was the one making sure I was taken care of. When she bridged in, I had to see it like, 'I have to make sure my mom is doing okay.' It was neat and I enjoyed it. It also made it easier to have teachers who really cared. They wanted to know, not only about school, but just in general – how are we doing. Then, when we did have questions, we didn't feel bask about just asking. It's been so good."

Alyssa Jarvis has immediate plans to work in hospice care. She hopes to return to the classroom to work on her Bachelor of Science in Nursing (BSN) degree and Nurse Practitioner certification. Kara Jarvis recently accepted a position in the emergency room of Herrin Hospital in Herrin, Ill. and also has plans to go back to school for her BSN degree in the future.
---
Forty years after obtaining her high school diploma, Wanda Bradford will earn her Associate in Applied Science degree from Spoon River College. Congratulations!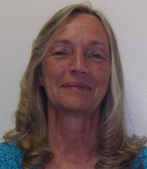 Wanda graduated from high school in 1978 and then immediately went to work at K-Mart in Macomb. She continued to work there full-time for 39 years until the store closed in December of 2016. With a passion for healthcare, Wanda enrolled in SRC's Health Information Management program. Today, 40 years after obtaining her high school diploma, Wanda will earn her Associate in Applied Science degree-two tassels, 40 years apart!
---
Congratulations to Olric T. Manthelot, a 24 year old student graduating from Lincoln Land Community College in computer information systems.
"I first heard that college changes everything from my father who always mentioned that education is the easiest way to succeed in life. I immigrated to the U.S after winning the diversity lottery in 2015 with that vision in my head, that only college would lead me to build the American dream. One month later following my immigration to the U.S, I joined LLCC in 2015 with really poor English. I have come from so far to graduate, to start my second corporate internship. My first one was at Bunn while my upcoming one will be at HSHS as an IT Intern this summer. Everything was made possible because of education. My college journey has not always been good; I remember the hard times every single day because they led me to who I am today. My first English teacher wrote on my paper "poor English and lack of structured sentences" which comments on a student with English as a second language can do enough pain to give up. College changed my way of living because I was able to meet new people; therefore, I was able to learn from them as they learned from me. College changed my mindset because it teaches you self-esteem, and it builds your mind such that you want more than only a degree. Everybody needs an outlet in order to find his own way, and I found it while being in college. The Open Door mentoring program, a grant that my school received in early 2016, was one of those outlets that facilitated my college journey as a minority student. I was able through this program to extend my social capital because we met people that were willing to help us minority students to grow with an open heart, providing an open door for us to reach our goals. The program provided a lot for me such as a financial support when it comes to books and other required material that I needed in order to be ready for college and finish big." – Olric Manthelot