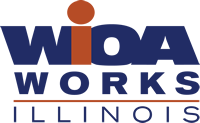 The Draft 2020 WIOA Unified State Plan
---
Welcome to the ICCB's Workforce Innovation and Opportunity Act (WIOA) web page. On this page we will post links to important documents such as the WIOA law, proposed rules, critical sites, and archived copies of the new WIOA newsletter, which will go out via email every other week with important updates and links. Information reference in the newsletters will be linked to this page.
What is WIOA?
WIOA is the Workforce Innovation and Opportunity Act of 2014. WIOA retains many of the functions and structures of WIA, the Workforce Investment Act of 1998, and incorporates certain new components, including expanded partnerships and greater coordination and alignment between education and workforce entities.
WIOA comprises four primary core partners and twelve required partners:
Title I – Workforce (adult, youth, & dislocated workers) [DCEO]
Title II – Adult Education [ICCB]
Title III – Wagner Peyser [IDES]
Title IV – Vocational Rehabilitation [DHS]
WIOA: The Workforce Innovation and Opportunity Act
Proposed Rules, First Round:
ICCB Comments on the Notice for Proposed Rule Making (NPRM) for WIOA:
ICCB WIOA Newsletters:
Illinois Works Together Newsletters can be found here.
LWIA Contact List Now Available
The Department of Commerce & Economic Opportunity (DCEO) keeps a listing with the contact information for key individuals affiliated with each of the LWIAs and LWIBs.
The purpose of the list is to serve as the official list of contacts for each local workforce investment area's Chief Elected Official(s), LWIB Chair, LWIB Staff, WIA Program Services Administrator and DCEO Office of Employment & Training Staff.
To access this contact list, click here.
WIOA Implementation Task Advisory Groups (TAGs)
In Illinois, several local level Task Advisory Groups have been established to provide a local perspective on issues related to the implementation of the Federal Workforce Innovation and Opportunity Act (WIOA). The seven groups follow:
Governance
Planning
Policy
Operations
Performance
Technology
Youth
Each group has two primary tasks:
To make recommendations to State policymakers in specific areas identified for each group, and
To identify significant requirements of the WIOA for which Illinois will provide specific comments in conjunction with Federal rulemaking.
The current membership from the community college system, members of Adult Education (AE) and Career & Technical Education (CTE) administration and staff, as well as ICCB staff, of each TAG follows and will be updated as needed:
1. Governance
Joanne Kantner, AE – Kishwaukee College
Peggy Heinrich, AE – Elgin Community College
Jean Kartje, CTE – College of DuPage
Karen Hunter Anderson – ICCB
Jennifer Foster – ICCB
Lavon Nelson – ICCB
2. Planning
Tawanna Nickens, AE – Parkland College
Val Harris, AE – Lewis & Clark Community College
Ali O'Brien, CTE – College of Lake County
Jennifer Foster – ICCB
Lavon Nelson – ICCB
3. Policy
Rocki Wilkerson, AE – Decatur Public Schools
David Wu, AE – Pui Tak, Chicago
Michael Boyd, CTE – Kankakee Community College
Jennifer Foster – ICCB
Brian Durham – ICCB
Lavon Nelson – ICCB
4. Operations
Glenda Nicke, AE – Black Hawk College
Lisa Atkins, AE – Southwestern Illinois College
Dave Kietzmann, CTE – Danville Area Community College
Lavon Nelson – ICCB
Marilyn Schmidt – ICCB
5. Performance
Dan Deasy, AE – College of DuPage
Bob Fittin, AE – Greater West Township Project
David Beer, CTE – Waubonsee Community College
Nathan Wilson – ICCB
Jay Brooks – ICCB
6. Technology
Randy Fletcher, CTE – Joliet Junior College
Jeff Newell – ICCB
Todd Jorns – ICCB
7. Youth
Val Harris, AE – Lewis & Clark Community College
Wendy Howerter, CTE – Lincoln Land Community College
Amanda Corso – ICCB
Ben McDaniel – ICCB