Day 3: CTE Spotlight featuring College of DuPage
A team of College of DuPage Accounting students tied Northern Illinois University for first place at a recent PricewaterhouseCoopers (PwC) Challenge case competition. COD's winning team included Dean Kozora, Brian Sechrist, Mark Skager and Priyanka Tenneti. CTE Competitions, such as this one, allow students to network and showcase their skills in the field of study they are pursuing. Congratulations to the participating College of DuPage students!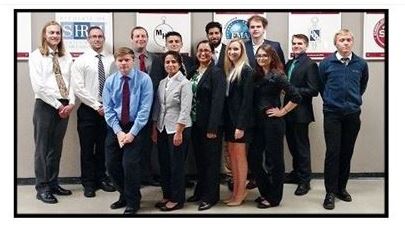 Pictured: COD students who participated in the (PwC) Challenge case competition: (first row, from left) Aidan Borre (Oakbrook), Vandana Sharma (Carol Stream), Priyanka Tenneti (Bloomingdale), Micheli Venky (Wheaton), Emily Keith (Bloomingdale); in addition, (back row, from left) Mark Skager (Wheaton), Dean Kozora (Willowbrook), Brian Sechrist (Lombard), Matt Pedraza (Downer's Grove), Saud Ali (Oakbrook), Nick Larson (Elmhurst), Curtis Gulloro (West Chicago), Nate Narofsky (Aurora).