DAY 21: CTE Spotlight featuring Parkland College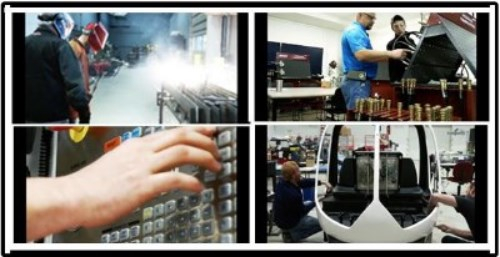 Strong Partnerships Help Students Succeed
Career and Technical Education (CTE) provides individuals with the academic, technical, and employability skills to pursue postsecondary education and training and enter a career field prepared for ongoing learning. Creating a seamless transition between secondary and postsecondary institutions is crucial for student success. The Early College model is an effective way to increase college and career readiness while also increasing postsecondary persistence and completion.
Parkland College and the Champaign County Chamber of Commerce have releases three new videos highlighting the Early College and Career Academy (ECCA) at Parkland College. ECCA is a joint effort of Education for Employment System #330 (a K-12 Career and Technical Education cooperative) and Parkland College. Through the program, area high school juniors and seniors earn dual credit, all while gaining skills in six different Parkland College degree areas: Manufacturing, Automotive Technology, Computer Networking, Certified Nursing Assistant, Emergency Medical Services, and Criminal Justice.
To watch the videos and learn more about Early College and Career Academy at Parkland, please visit their website.