DAY 19: CTE Spotlight: featuring Carl Sandburg College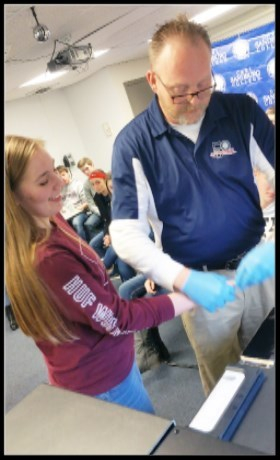 Capturing Work-Based Learning
Carl Sandburg College criminal justice program coordinator, David Kellogg, recently gave participants in the Worldwide Youth in Science and Engineering (WYSE) Academic Challenge at Sandburg's Branch Campus in Carthage a hands-on look at careers in the field. Kellogg offered informational crime scene presentations to students from five local high schools during breaks in their daylong competition. Students learned about basic crime scene processing and latent fingerprint identification in addition to an overview of the technical skills required by entry-level officers.
Students were fingerprinted and given information on the collection of latent prints. They also learned about the major characteristics of latent prints and magnified their prints for closer evaluation. Students also witnessed dusting and lifting techniques such as static-electro lifting on carpets and flooring.
For more information about Sandburg's criminal justice program, contact Kellogg at 309.341.5313 or dkellogg@sandburg.edu, or visit the College's website, www.sandburg.edu.