DAY 27: Perkins and CTE
What is Perkins?
The Carl D. Perkins Career and Technical Education Improvement Act of 2006 (Perkins IV) is the most important piece of legislation affecting CTE in Illinois. Perkins focuses state and local efforts on continuously improving programs to facilitate the academic achievement of CTE students by:
strengthening the connections between secondary and postsecondary education;
restructuring the way stakeholders, high schools, community colleges, universities, business, and parents work together; and
increasing state and local accountability standards.
Supporting CTE at all Levels
Each of the 48 Illinois community colleges is allocated a portion of the Perkins grant funds. The colleges utilize these funds to support their CTE programs and develop programs of study. Additionally, colleges use these funds to support special populations, engage college and community partners in advisory committees, enhance dual credit programs and offerings, integrate academic and CTE programs, increase work-based learning opportunities through current equipment and technology, and provide professional development for CTE faculty and staff. A portion of Perkins funding is also distributed to Illinois secondary institutions. These funds are used to strengthen students' technical skills, assist in meeting the new Illinois Learning Standards, and close achievement gaps. The Illinois State Board of Education and Education for Employment (EFE) systems support local high school districts in the cooperative planning and delivery of high-quality career and technical education to students within their system.
As we wind down our "28 days of CTE," the ICCB would like to send a special thank you to Dora Welker, Division Administrator at the Illinois State Board of Education and Illinois' State Director for CTE.  The ICCB and the ISBE administer the Perkins grant through a long standing partnership. Dora has been at the center of this partnership since its inception and has always been a faithful servant to CTE providers and students in Illinois.  The last day of 2017's CTE month also marks the last day of Dora's tenure in CTE at the ISBE.  She is retiring after many years of dedicated service.
Dora—we wish you well!  Thank you for all that you have done for Illinois' students. 
Happy Retirement! – ICCB Staff and CTE Team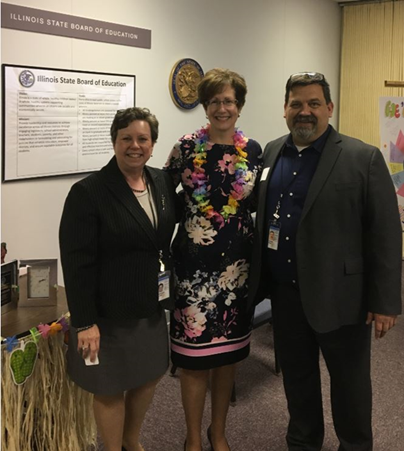 Karen Hunter-Anderson, Executive Director for ICCB (Left), Dora Welker, Division Administrator and State Director for CTE (Center), Brian Durham, Deputy Director for Academic Affairs (Right)
Perkins Reauthorization
Members of the House Education and Workforce Committee are coalescing around a possible springtime reauthorization of Perkins. Chairwoman of the committee, Virginia Foxx (R-NC), expressed that passing an updated Perkins Act is a top priority for the committee. Reauthorization efforts seek to align Perkins to other federal legislation such as the Every Student Succeeds Act (ESSA) and the Workforce Innovation and Opportunity Act of 2014 (WIOA) while streamlining the requirements of the law to more effectively support high-quality CTE.