Day 3: CTE Spotlight featuring College of DuPage
A team of College of DuPage Accounting students tied Northern Illinois University for first place at a recent PricewaterhouseCoopers (PwC) Challenge case competition. COD's winning team included Dean Kozora, Brian Sechrist, Mark Skager and Priyanka Tenneti. CTE Competitions, such as this one, allow students to network and showcase their skills in the field of study they are pursuing. Congratulations to the participating College of DuPage students!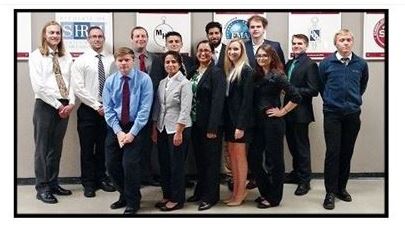 Pictured: COD students who participated in the (PwC) Challenge case competition: (first row, from left) Aidan Borre (Oakbrook), Vandana Sharma (Carol Stream), Priyanka Tenneti (Bloomingdale), Micheli Venky (Wheaton), Emily Keith (Bloomingdale); in addition, (back row, from left) Mark Skager (Wheaton), Dean Kozora (Willowbrook), Brian Sechrist (Lombard), Matt Pedraza (Downer's Grove), Saud Ali (Oakbrook), Nick Larson (Elmhurst), Curtis Gulloro (West Chicago), Nate Narofsky (Aurora).
DAY 6: CTE Spotlight featuring Malcolm X College, a City College of Chicago
Malcolm X College (MXC)  is seeking accreditation of a new Physical Therapist Assistant (PTA) education program. The developing PTA program will join MXC as the first and only public program within the city of Chicago. PTA is an in-demand career in the healthcare field, as evidenced by national workforce data. The PTA program has received unwavering support from staff and administration of MXC and has been generously supported through Perkins Grant funding for equipment and staff necessary for initial development of the program. Pre-requisite courses for the PTA program are underway and the first cohort is scheduled to begin during the 2017 summer term. Pending a successful first cohort and accreditation visits, the PTA will be fully accredited in the spring of 2018.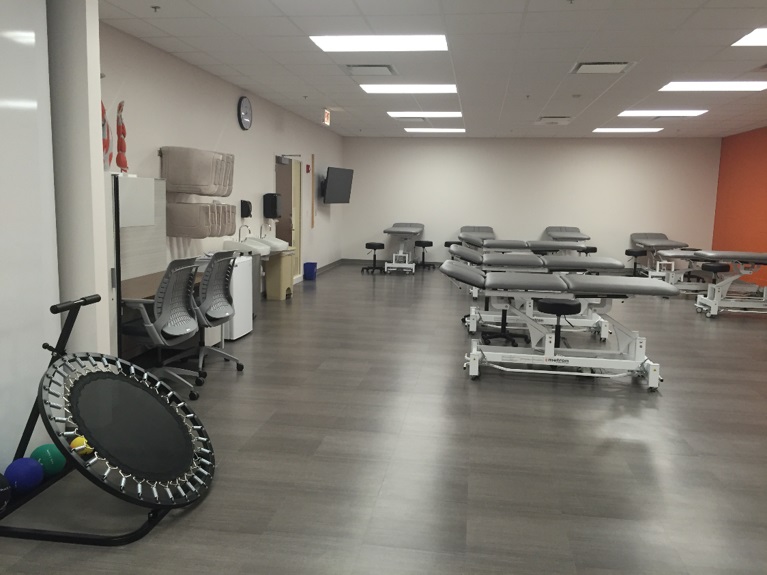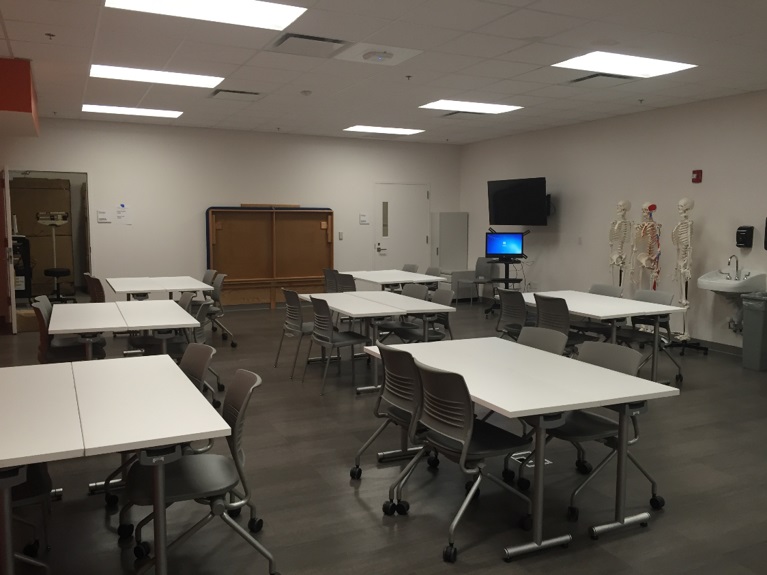 Day 9: College Spotlight featuring Rend Lake College
Background check: MVPD leaders trace careers back to Rend Lake College

INA, Ill. (Jan. 28, 2017) – Honor, integrity and community are the building blocks Mt. Vernon Police Department Chief Chris Deichman and Assistant Chief Trent Page are highlighting in their own department and are also encouraging current and future Rend Lake College Criminal Justice Students to embrace for success.
Both Deichman and Page are Rend Lake College graduates, studying Criminal Justice before becoming fixtures in the place they grew up, putting on the uniform and vowing to serve and protect….
…"Over the last few years we have really made an effort to focus on working with our community college partners. Most of the colleges in this region have been very receptive. Rend Lake College is no exception. Ron Meek [RLC Criminal Justice Associate Professor] has been great about letting us get in front of students to present. We are just really trying to generate some interest in our department to get some prospective employees, because the ones that are from here are more likely to stay here. And, at the end of the day, that's a better investment for us as an employer."… click here to continue reading.
For more information about RLC's Criminal Justice Program, contact Ron Meek at 618-437-5321, Ext. 1239, or email meekr@rlc.edu. You can also visit: https://www.rlc.edu/programs-and-degrees/113-criminal-justice.

DAY 13 – CTE Spotlight: featuring Highland Community College
HCC Dairy Judging Team Finishes Their Season in 2nd Place
Competing with 15 teams, comprised of two-year colleges and four-year universities, the Highland Community College Dairy Judging team finished their season in second-place at the Southwestern Exposition & Livestock Show in Fort Worth, Texas. 
Judging consisted of several classes, including Brown Swiss, Jersey, and Holstein breeds, followed by a set of four oral presentations in which judges provide an explanation for their placing in dairy cattle evaluations. In the Jersey Breed, Riley Zettle was the second-place individual, and the team finished third. The team also finished third in Brown Swiss. In Holsteins, the team had a second-place finish. 
Participating team members were Anna Folgate, Pearl City; Hannah Hunziker, Ridott; Ellie Lenkaitis, Winnebago; and Riley Zettle, Rock City. The team was coached by Kristi Dinderman, Orangeville. 
Congratulations to the Highland Community College team!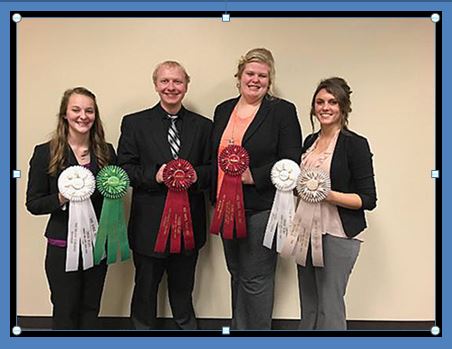 DAY 18: CTE Spotlight: featuring Rend Lake College
About 40 students in Mt. Vernon Township High School's (MVTHS) STRIVE program visited Rend Lake College's campus last week to learn about and get involved in several of the college's CTE programs.
The STRIVE Program is designed to encourage seniors to improve grades and attendance during their last year. Sponsored in-part by the RLC Foundation, two students who have the best improvement in grades and attendance are awarded one-year full scholarships to RLC.
Throughout their visit, students stopped by several CTE programs to speak with instructors and RLC students, including agriculture, architecture, graphic design, and welding. Students also visited the art, certified medical assistant, music, nursing, radiologic technology, and theatre programs. Representatives from the RLC Foundation and Career Services departments were also available. To see more photos of the event, please see RLC's flickr page.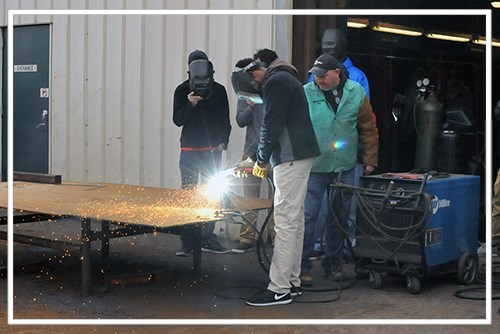 MVTHS senior Kendell Hayes learns about Air Carbon Arc Cutting during his visit to the RLC Welding program last week from Welding Professor Pete Wilce.

DAY 19: CTE Spotlight: featuring Carl Sandburg College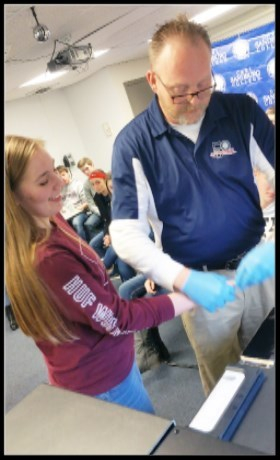 Capturing Work-Based Learning
Carl Sandburg College criminal justice program coordinator, David Kellogg, recently gave participants in the Worldwide Youth in Science and Engineering (WYSE) Academic Challenge at Sandburg's Branch Campus in Carthage a hands-on look at careers in the field. Kellogg offered informational crime scene presentations to students from five local high schools during breaks in their daylong competition. Students learned about basic crime scene processing and latent fingerprint identification in addition to an overview of the technical skills required by entry-level officers.
Students were fingerprinted and given information on the collection of latent prints. They also learned about the major characteristics of latent prints and magnified their prints for closer evaluation. Students also witnessed dusting and lifting techniques such as static-electro lifting on carpets and flooring.
For more information about Sandburg's criminal justice program, contact Kellogg at 309.341.5313 or dkellogg@sandburg.edu, or visit the College's website, www.sandburg.edu.
DAY 20: CTE Spotlight featuring McHenry County College
MCHENRY YOUNG ADULT STUDENT SUCCESS PROGRAM HELPS YOUTHS FIND WORK
CRYSTAL LAKE – When Jonathan Sandoval was looking to get real-world experience in the manufacturing field, the 23-year-old from Carpentersville heard about McHenry County College's Young Adult Success Program.
"This program helps people who have trouble looking for jobs," Sandoval said. "It's a good social experience to help people and have them learn more about jobs they are interested in and how to look for those jobs."
After graduating from the manufacturing program in the fall, Sandoval has the necessary certifications, connections and experience to help him secure employment. "Now I'm trained in several areas that can help me get a better job for the future," Sandoval said. To address the issue of unemployed youth, the Young Adult Student Success Program helps 18- to 24-year-olds prepare for high-paying occupations in manufacturing and health care.
The program is made possible by a $100,000 federal grant from the McHenry County Workforce Network, which enrolls the students in the program while MCC coordinates the program's classes. The program's first students completed it in spring 2015. Since it launched, 21 students have graduated from the manufacturing track and six have graduated from the health care track.- NATE LINHART nlinhart@shawmedia.com.
Access the full article here.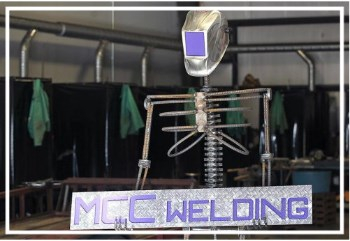 DAY 21: CTE Spotlight featuring Parkland College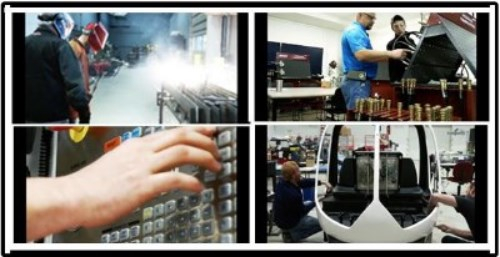 Strong Partnerships Help Students Succeed
Career and Technical Education (CTE) provides individuals with the academic, technical, and employability skills to pursue postsecondary education and training and enter a career field prepared for ongoing learning. Creating a seamless transition between secondary and postsecondary institutions is crucial for student success. The Early College model is an effective way to increase college and career readiness while also increasing postsecondary persistence and completion.
Parkland College and the Champaign County Chamber of Commerce have releases three new videos highlighting the Early College and Career Academy (ECCA) at Parkland College. ECCA is a joint effort of Education for Employment System #330 (a K-12 Career and Technical Education cooperative) and Parkland College. Through the program, area high school juniors and seniors earn dual credit, all while gaining skills in six different Parkland College degree areas: Manufacturing, Automotive Technology, Computer Networking, Certified Nursing Assistant, Emergency Medical Services, and Criminal Justice.
To watch the videos and learn more about Early College and Career Academy at Parkland, please visit their website.
Day 26 – CTE Spotlight: Triton College
Triton College is now offering a new Biotechnology Laboratory Technician Associate of Applied Science Degree Program. This innovative program provides practical training that will have students on their way toward earning a competitive salary while helping to create solutions that will improve the lives of people across the world.   
So what exactly is Biotech?
"Biotech is basically the use life sciences to come up with solutions for society," said Amit Shukla, Triton College Renewable Energy Program Developer.
In short, if it's alive, it's biotechnology. Studying the plants, animals, air and water around us and figuring out how they can be used to create new medicines, better fuels, more efficient agriculture techniques and healthier foods are a few examples of biotechnology.
How does Triton's Biotech Program work?
In just four semesters, you'll gain the skills needed to succeed as a technician in a lab setting in industries ranging from pharmaceuticals, food production, agriculture and biofuel Unlike the theory-based curriculum taught in many other science degree programs, Triton's biotech course focuses on providing vocational training that teaches specific skills in a hands-on, practical way. For example, in the Biotechnology Laboratory Techniques courses, lab and lecture components will combine to teach students how to culture bacteria, identify the presence of microorganisms in various samples and analyze DNA.
Triton is also creating partnerships with other institutions, including Illinois State University, Southern Illinois University-Edwardsville and Illinois Institute of Technology, that will allow students to pursue a bachelor's degree in Biological sciences, once they leave Triton. Major multinational organizations such as Archer Daniel Midland, BioRad, Honeywell UOP, iBio, Horizon Pharmaceutical and Medix are also on Triton's Biotech Program Advisory Committee.
To learn more about Triton's Biotechnology Program click here.