The Illinois Center for Specialized Professional Support (ICSPS), in partnership with the ICCB, has established the Professional Development Network. This network aims to develop an ongoing professional development platform for community college CTE administrators, coordinators, and faculty.  The intent is to ensure that community college career and technical programs continue to focus effectively on student outcomes, strengthen the connections between secondary and postsecondary education, and improve program accountability. Below is a list of upcoming professional development.
For more information about what professional development is available in your region, visit the ICSPS website or contact Aime'e LaFollette Julian, Ph.D at 309/438-5122 or alafoll@ilstu.edu.
Recent Professional Development
Permissible Uses of Perkins Funds
This webinar served as a refresher on guidance and requirements related to the uses of funds for the Carl D. Perkins Career and Technical Education and Improvement Act of 2006.  It discussed the required use of funds, permissible use of funds, an explanation of basic cost principles, and provided an opportunity to ask questions. The PowerPoint can be located here and the recorded webinar can be found here.
Transitions Academy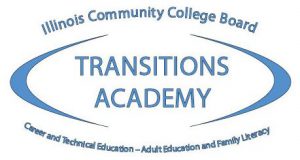 Thank you for attending the Transitions Academy 2017.   The Transitions Academy was held on November 8 – 9, 2017 at the Thelma Keller Convention Center in Effingham, Illinois.  For your convenience ICSPS has archived presentation material from the Transitions Academy for your continued access and can be found here.
The Transitions Academy is designed to assist colleges and partnerships working on developing Bridge and ICAPS (Integrated Career and Academic Preparation System) programs by increasing awareness of the expanding partnership between Adult Education and Career and Technical Education as it relates to the ICAPS models, Illinois Bridge programs, and Illinois Programs of Study.
WIOA Summit 

Thank you for participating in the Illinois WIOA Summit 2017. For your convenience ICSPS has made the presentations, handouts and supplemental material available for continued access.
The Illinois WIOA Summit 2017 was hosted by the Department of Commerce and Economic Opportunity, The Illinois Community College Board, Illinois Department of Employment Security, the Illinois Department of Human Services, and other Core WIOA partners. The objectives of the summit will be to provide training on transitioning from WIOA planning to implementation by accelerating the development of industry and business-driven strategies and services; deepening collaboration among workforce development, education, economic development, and other partners; and fostering the development of integrated, multi-partner service delivery.
The Summit was held in Springfield, Illinois at the Wyndham City Centre on  October 24 and 25, 2017
Archived Presentations and handouts can be found here.
Stay tuned for upcoming Spring 2018 PD events!